The Long Handle Striper (250)
Black lacquered handles
Graduated hair lengths from 1 5/8″ to 2″
Brown kazan squirrel hair
Seamless nickel ferrules
Great for design work and hard to reach areas
Available in sizes 000, 00, 0 & 1
Related products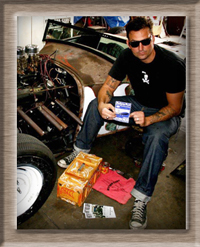 Our company has teamed up with HOT ROD SURF founder and artist Mark Whitney Mehran (MWM) to produce a specialized pinstriping brush for traditional freehand hot rod & motorcycle pinstriping.This brush is a faithful reproduction of the modified pinstriping brush that MWM uses in the
Hot Rod Surf Pinstriping Techniques Movie
and his book
Basic Hot Rod Pinstriping Techniques with Hot Rod Surf.
The Hot Rod Surf MWM series pinstriping brush is a multi-functional brush that is great for the 1950?s style freehand pinstriping and rugged enough to be put into daily professional use. The HRS-1 brush is specially designed to do it all from thick lines to thin lines, straight lines to circles, and everything in between.
This brush was manufactured with the beginner in mind and has the quality for the seasoned vets.
The brush is made with the classic dowel handle and the hair that is used is European dressed blue squirrel hair.
We are excited to bring such an expensive haired brush to the striper at an affordable price.
www.hotrodsurf.com