Mach One Striper (101)
(Grumbacher Replacement)
The Grumbacher Company was sold several years ago and the company that purchased Grumbacher discontinued many of the quality brush products. When the two Grumbacher stripers were no longer offered we found the company who had been making these for Grumbacher and began offering the same brush, but with our name on the handle. Unfortunately, that manufacturing company went out of business in mid 2002 and we assume the assets were purchased by a company in India. We were concerned about quality, distance, exchange rates etc., so we worked with several "Grumbacher users" and developed our own version of the old Grumbacher 1010. We can not offer the 1020 black plastic handle, since we would have to buy too many handles to get a cost effective price. Stripers who worked with us to develop this new brush also suggested that it be a bit longer. From this research came the New "Mach-One".
Available in sizes 00, 0, 1, & 2  (see chart below) | Wooden Lacquered Handle
Series 101
| Size | 00 | 0 | 1 | 2 |
| --- | --- | --- | --- | --- |
| Length Out | 1 7/8″ | 1 15/16″ | 2″ | 2 1/16″ |
Related products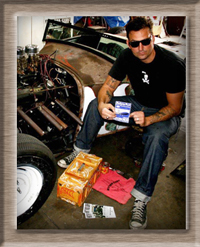 Our company has teamed up with HOT ROD SURF founder and artist Mark Whitney Mehran (MWM) to produce a specialized pinstriping brush for traditional freehand hot rod & motorcycle pinstriping.This brush is a faithful reproduction of the modified pinstriping brush that MWM uses in the
Hot Rod Surf Pinstriping Techniques Movie
and his book
Basic Hot Rod Pinstriping Techniques with Hot Rod Surf.
The Hot Rod Surf MWM series pinstriping brush is a multi-functional brush that is great for the 1950?s style freehand pinstriping and rugged enough to be put into daily professional use. The HRS-1 brush is specially designed to do it all from thick lines to thin lines, straight lines to circles, and everything in between.
This brush was manufactured with the beginner in mind and has the quality for the seasoned vets.
The brush is made with the classic dowel handle and the hair that is used is European dressed blue squirrel hair.
We are excited to bring such an expensive haired brush to the striper at an affordable price.
www.hotrodsurf.com